ISABELLA GARAFFA - Winter Collection 2021/22
11/14/2021
ISABELLA GARAFFA - the beginnings of her Winter Collection 2021/22
Isabella Garaffa was born in Asuncion, Paraguay, She now lives and creates her artwork in Snowmass Village, where she has been residing for the last eleven years. Her most treasured childhood memories are directly connected to her strong passion for the wilderness, which is translated throughout her artwork in very intense detail. Seeing Aspen trees for the first time at the age of twenty two, gave her a fresh approach to recreate them in her studio in later years.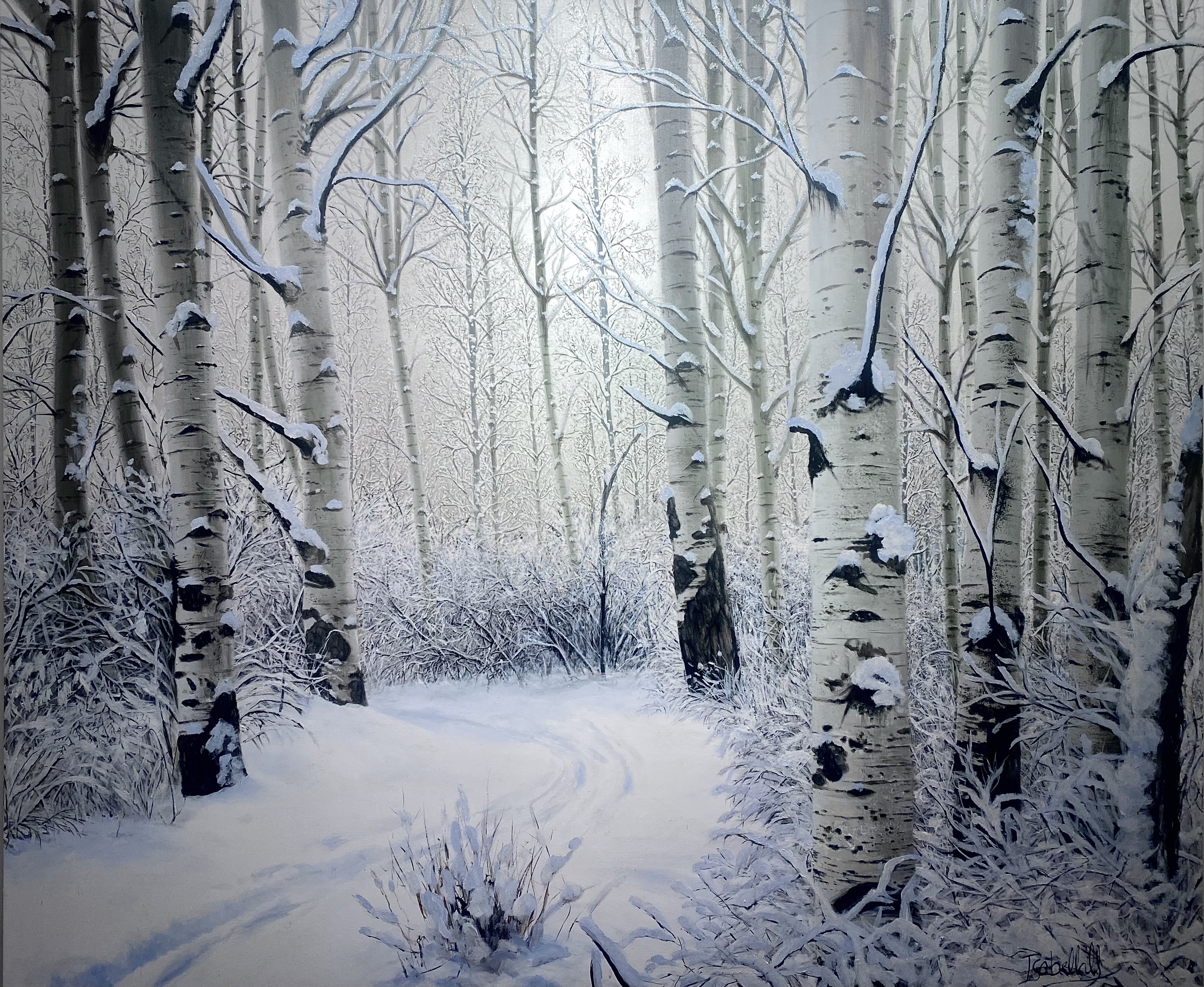 "The quietness of winter"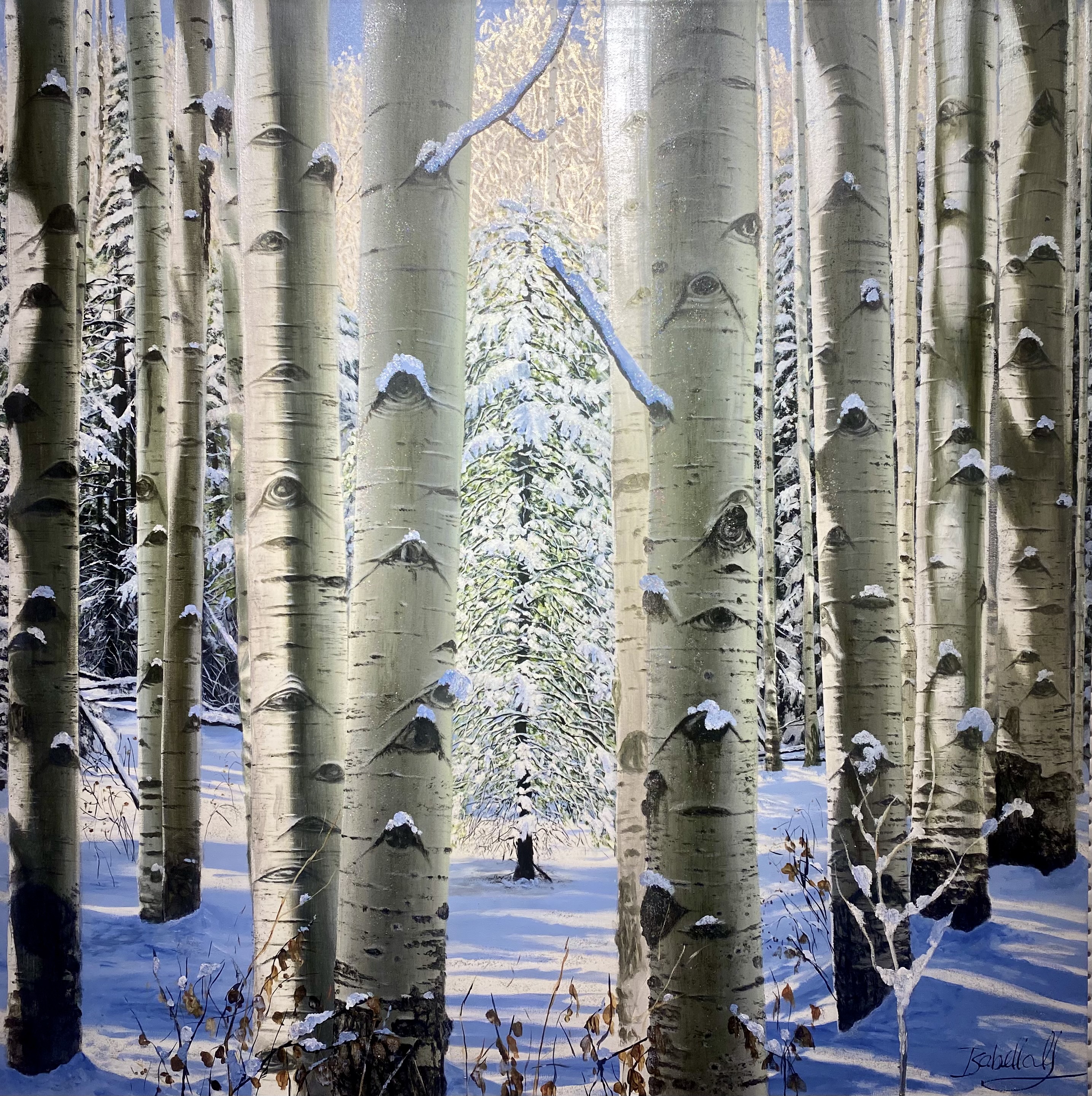 "The most wonderful time" (sold)
.
"The Most Wonderful Time" 48 x 48 in. (sold)
" ...I took this photograph last year, beginning of December. My husband and I decided to go for a hike on the Ditch trail in Snowmass. I remember thinking to myself "do not forget this, do not forget this!" . What I mean by that is that no matter what adjustments I do on my@phone to balance the light and contrast, the pictures I take never do justice to what I am really looking at in the moment. So I am standing there with my fingers frozen and my toes numbed, printing in my memory every detail of that moment. My work doesn't start in my studio, it starts in the moments I live outside in nature. When I am painting in the canvas referencing to the photograph I have chosen, I have started painting that photograph the moment I took it. When I look at something that amazes me, my head goes to my brush. I study every detail of that moment imagining that I'm creating it with my hands. It's a complex thing. I can't ever just look at something beautiful without thinking in my mind how to use my brush so you can be in that moment as well, so you can be amazed just as I was. I don't spend much as much time working on every little detail on the composition itself, as much time as I spend on creating the effects to suggest to you what I have felt. Is just what I know to do. Hopefully I can take you there with my art. It's the message i want to transmit the hardest thing to do. Maybe that's the struggle all of us artists have"
by ISABELLA GARAFFA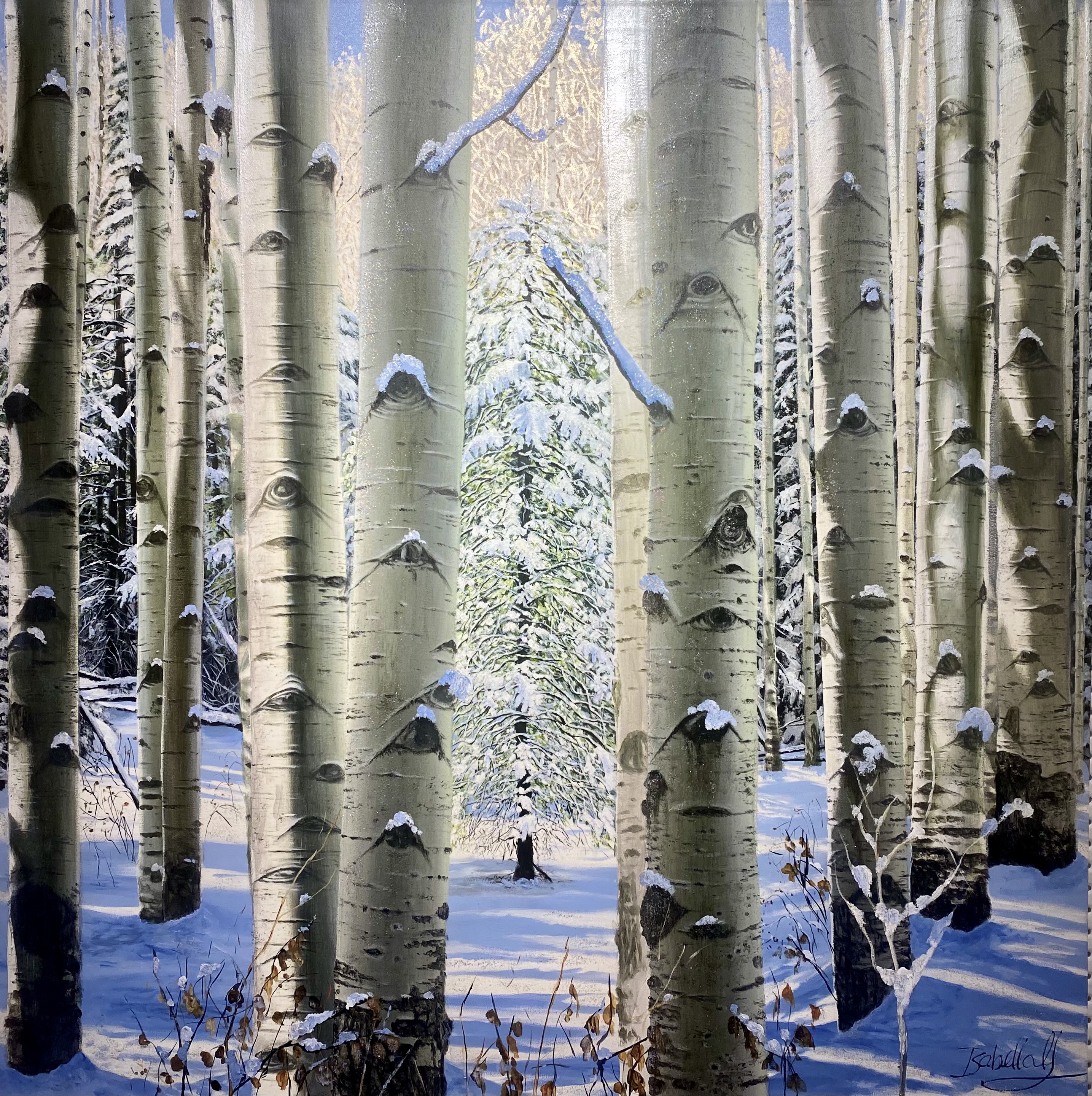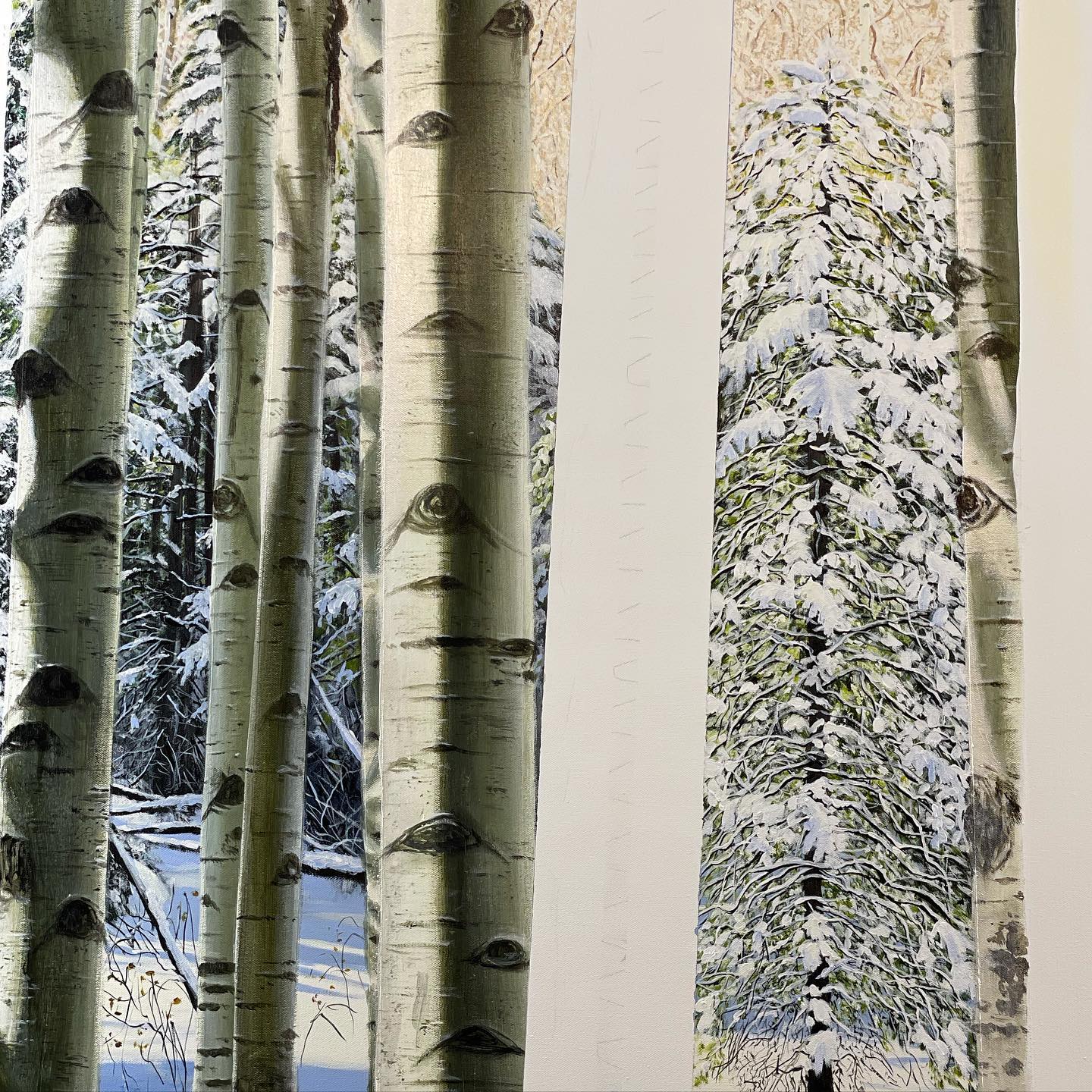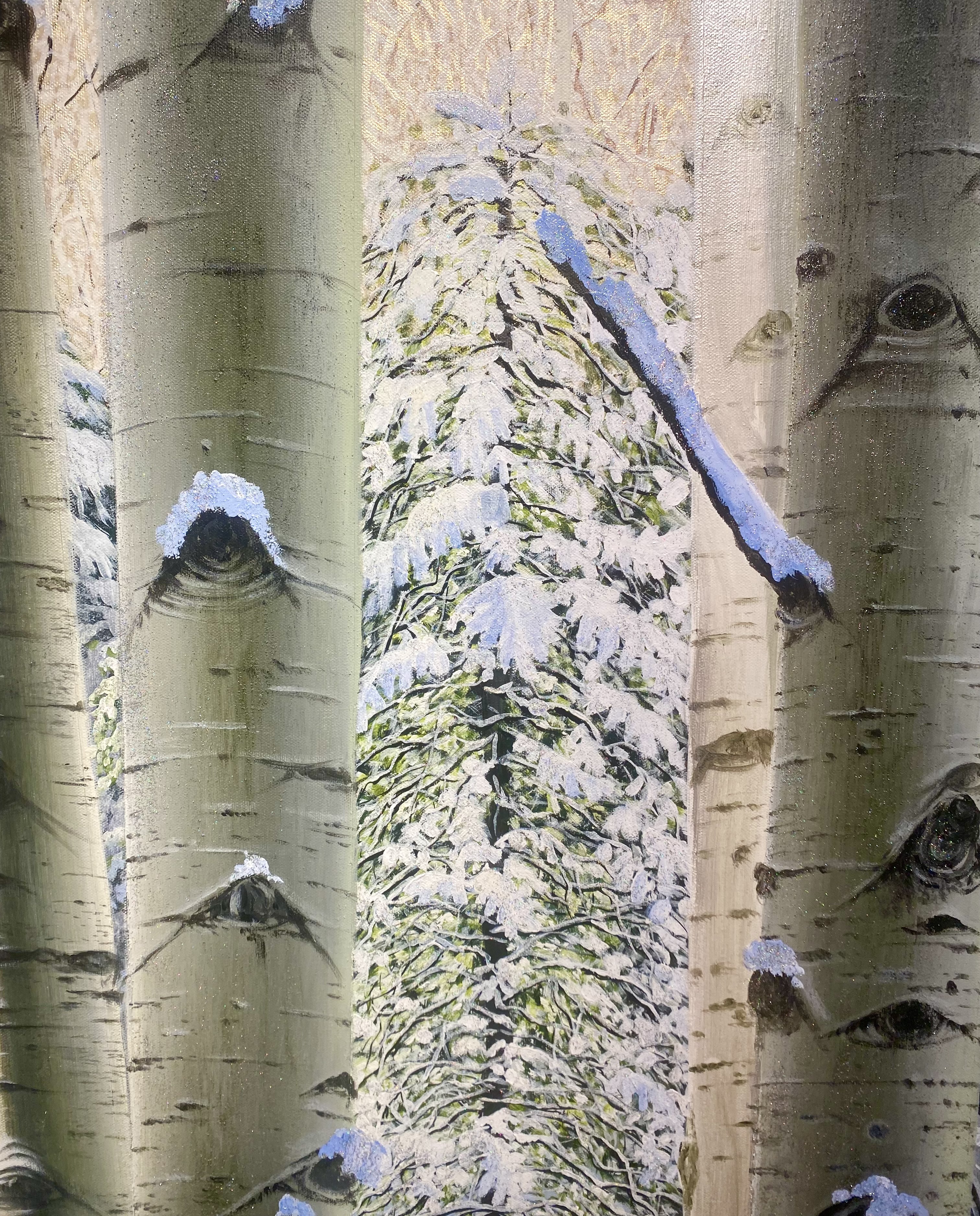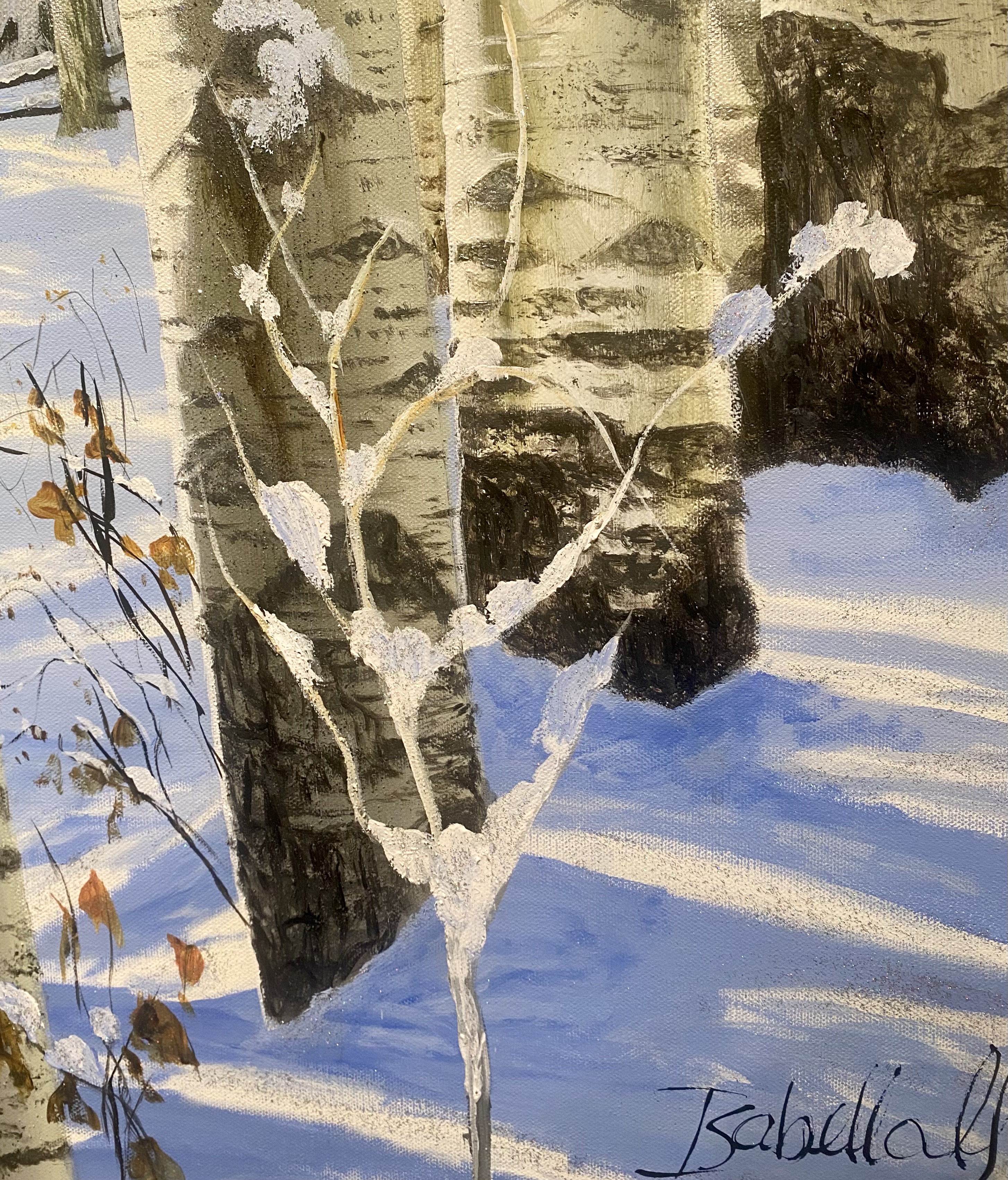 "The quietness of winter" 60x72
The birds have found a new home. The leaves have left its branches. There are no more noises. It almost feels like nature has gone to sleep. As if the pull of gravity has lost its strength. Have you ever noticed how quiet it gets when winter arrives? In a moment all the clapping of the trees and the rumbling of waters and the symphony of the falling rains and the buzzing sound of bees and the subtle noise of wings, they all disappear. Snow falls at its own rhythm without making an entrance. You can only know she is coming when you are out to look for her. Quickly comes and quickly goes. But when she leaves , you indefinitely know her presence was there. Everything is transformed by her touch. But the most wonderful thing is that what appeared to be dead before, is now covered in some sort of celestial dust. Have you ever noticed how sparkly it gets when winter arrives? In a moment all the dullness of the trees and the coldness of the frozen waters and the nostalgia of the sound or rain and the silence of the sleeping creation, they all come alive. Winter has its way of making things look better then they are. But the quietness of its becoming , is what I most delight about".
by ISABELLA GARAFFA