-
Disciplined, dedicated and in love with the West.
-
Meet Topher Straus, an artist who has created an entirely new medium to capture nature's grandeur—America's pristine national parks from coast to coast, and much more. Gifted with an Impressionist's eye, Straus constructs evocative imagery through color and line while visually traversing his landscapes with a digital "brush'. By working on a grand scale, he takes the viewer into a fresh realm of artistic experience.

Born in Colorado in 1974, Straus descends from Western pioneer roots and a family with a deep commitment to the arts. He was exposed at a young age to contemporary masterworks through their museum-worthy collections and developed an inimitable style as he processed his own inner world on canvas.
Many exceptional examples of fine art begin with nature, plus a profound understanding of composition, surface, color and texture. To render the three-dimensional world, and sometimes the greater forces of nature as well, on to a two-dimensional plane and establish a new reality is an exacting challenge.
Topher Straus begins with a photo, often one from a personal, outdoor experience, or seeks a compelling reference image to make a new photographic collage from which he bases his work. These images connect with him on an intimate level and require a kind of immersion of self, the enveloping sense of place fueling his creativity.
"Once I've obsessed over the minute details," said Straus, "and feel content with the quality and composition of the digital painting, I sublimate the painting onto an aluminum sheet. The sublimation process bonds dye to the aluminum on a molecular level. Then the sheet is coated in a glossy resin, to give it a partially mirrored finish. The work is now preserved for at least the next 100 years."

What the artist has discovered is that many viewers and collectors have their own personal relationships to these iconic places, allowing for a wide range of individual response. People connect, each in their own way. For Straus, what begins as a deeply personal record of a memorable time and place, inevitably becomes a transcendent, universal message.
A large part of my art is the first step, the actual journey; experiencing nature in person and observing it. Whether it's the delicate eyelashes of an elephant up-close, or the continually changing hues of the world around me, I've learned that all the parts create the whole. The adventure itself helps shape my interpretation.Growing up in Colorado and hiking and skiing the mountains as a youth, I grew to be passionate about the outdoors. As a result, I encourage others to get outside and explore. It's no coincidence that I chose the iconic vistas of America's national parks as my first major focus. Thanks to my family, I also grew up exposed to art and credit the painter Matisse for his strong influence in the way I see the two-dimensional plane. In addition, the highly respected tradition of landscape painting in the West has inspired me, a tradition I want to help preserve. By rendering these treasured vistas anew to a fresh audience with modern technology, I can further the joy of depicting nature and emphasize the shared responsibility of protecting it. As a silent advocate for America's natural beauty, it's one more way of giving back, a very important value in my life, thereby advancing the preservation of our sacred places.
BIOGRAPHY
Straus graduated from Syracuse University with a BFA in Film Art, then went on to pursue the dream of working under Academy Award-winning filmmaker Robert Altman, investing a decade in Hollywood and personally directing several narrative and documentary films. Following a move to New Zealand, and the addition of a son to a growing family, Straus returned to Colorado to focus on his own transformative view of the world. Initial collector response often included the urge to touch his paintings, presenting the challenge of touch-resistant surfaces. While honing a newfound painting technique via digital tools, he discovered the process of sublimation whereby images could be affixed to a metal surface and sealed, completely protected.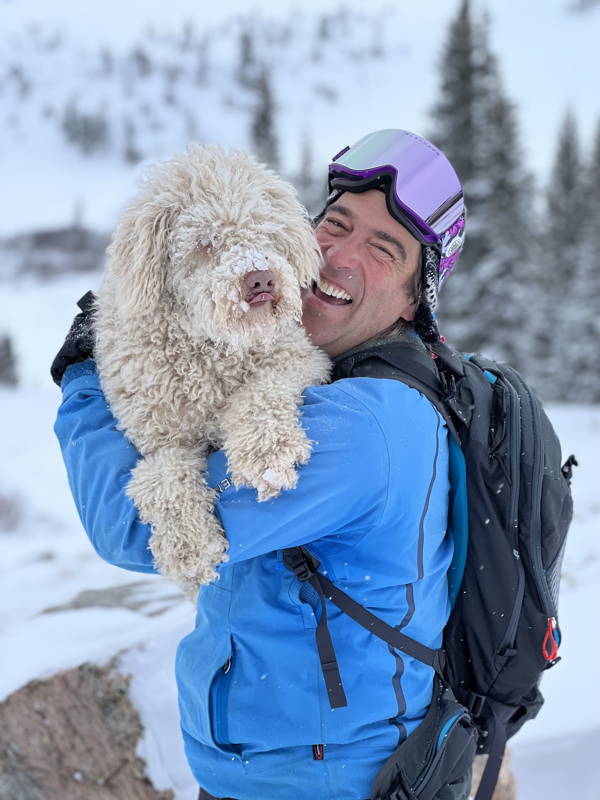 Artist Topher Straus at 13,000ft above sea level
with his pup Fin.
Straus's first solo exhibition in Denver in 2019, "The Parks", proved that the art world was ready for what he had to offer Among the successful sales and significant results was an invitation from the Department of the Interior to display his painting "Tetons" at the Grand Teton's National Park Visitor Center through 2042. At home near Denver, Colorado, Straus's mountainside studio embraces the very wilderness he craves. Looking ahead, he intends to complete images of all the American national parks, as well as explore the stunning drama of the West's varied mountain ski slopes, a subject already receiving enthusiastic acclaim. He is committed to creating up to three new pieces a month; a singular original and 25 limited editions. When these sell out, the edition is closed.

Straus has exhibited in galleries, institutions, museums and private collections throughout the U.S. and overseas. In Colorado he is currently featured at the Marriot Luxury Collection's Hythe Hotel in Vail with eight works on display. The renowned Vail International Gallery handles representation in Vail and the Breckenridge Gallery recently launched a solo exhibition space for his work. Straus boasts 60,000+ followers on Instagram, crossing international boundaries. At the core of his success is the artist's unbounded interest in others and his heartfelt generosity, expressed through philanthropy to non-profits in the areas of food insecurity, art education, and conservation. Since 2019, he has proudly donated over $50,000 to those in need. For Topher Straus, his artistic passion clearly sustains humanity in more ways than one.
CURRICULUM VITAE
Topher Straus, b.1974, Denver, CO USAEDUCATION

Syracuse University, BFA, 1997

EXHIBITIONS
2022 (July) "The Parks" Vail International Gallery, Solo Exhibition, Vail, CO
2022 (April - June) "Slopes, Shapes, and Landscapes" The Lincoln Center, Group Exhibition, Fort Collins, CO
2022 (March-May) "Rendering the West" Slate Gray Gallery, Solo Exhibition, Telluride, CO
2022-2042 Jenny Lake Visitor Center Grand Tetons National Park, Featured Artist, Jackson Hole, WY2022-2070 Mikvah of East Denver, Featured Artist, Denver, CO2022-2023 The Hythe Vail, Topher Straus Art Walk, Featured Solo Exhibition, Vail, CO

2022-2023 Schoonover Gallery, Represented Artist, Steamboat Springs, CO

2022-2023 Lumiere with Inspirato, Telluride, CO
2021-2022 Meyer Gallery, Represented Artist, Park City, UT
2021-2022 Slate Gray Gallery, Represented Artist, Telluride, CO
2021-2022 Vail International Gallery, Represented Artist, Vail, CO
2021-2022 Breckenridge Gallery, Represented Artist, Breckenridge, CO
2020-2022 R Gallery and Art Bar, Represented Artist, Boulder, CO
2021-2022 Uptripping Gallery, Represented Artist, Winter Park, CO
2021 Kowen Gallery, Featured Artist, Westminister, CO
2021 Mystic Trinity Fine Art, Represented Artist, Evergreen, CO

2021 Las Laguna Art Gallery Landscape (Group Exhibition), Laguna Beach, CA
2021 Foothills Art Center, Members Show (Group Exhibition), Golden, CO
2020 Niza Knoll Gallery, Holy Moly (Group Exhibition), Denver, CO
2020 R Gallery, Mountains, Peaks, and Waterfalls (Group Exhibition), Boulder, CO
2020 Niza Knoll Gallery, The Masters: Topher Straus and Howard Harris, Denver, CO
2020 Superfine Art Fair, San Francisco
2020 Bitfactory Gallery, Open Spaces (Group Exhibition), Denver, CO
2019 Littleton Museum, 54th Annual "Destination" (Colorado Juried Exhibition), Littleton, CA

2019 Arts Benicia, Uplift: Celebrating the Sierra Nevada (National Juried Exhibition), Benicia, CA
2019 American Mountaineering Museum, Topher Straus: The Parks, Golden, CO
2019 Barrett Art Center, New Directions (National Juried Exhibition), Poughkeepsie, NY
2019 The Katonah Museum of Art, The Edge Effect (International Juried Exhibition), Katonah, NY
2019 Cooper & Dash Gallery, Moonwalk, Denver, CO
2019 Garage at Bitfactory Gallery, Topher Straus: B-Sides, Denver, CO
2019 Garage at Bitfactory Gallery, 4x4 (Group Exhibition), Denver, CO
2019 Niza Knoll Gallery, Topher Straus: The Parks, Denver, CO
2019 Bitfactory Gallery, No Show, Denver, CO
2018 Bitfactory Gallery, All Day I Dream (Two Person Exhibition), Denver, CO
2018 Bitfactory Gallery, Boombox (Group Exhibition), Denver, CO